iOS 15 Launch
Back in June 2021 Apple announced its biggest update iOS 15 for its users, which was released via OTA on 20 September, 2021. In this update apple included plenty of new features for Facetime, Focus, All new Notifications area, Redefined Maps and Safari, Live text and more.
Since the initial release of iOS 15, It has became much more feature loaded for an amazing user experience. Below is the list of date wise releases.
Version
Date
Type
Detail
15.00
20 September 2021
Initial Release
Initial Release
15.0.1
01 October 2021
Bug Fixes
Bug Fixes
15.0.2
11 October 2021
Bug Fixes
Security and Messages
15.1
25 October 2021
Feature Update
Share Play, Live Text camera support,
Bug Fixes
15.1.1
17 November 2021
Bug Fixes
Call Drop Fix on iPhone 12 and iPhone 13
15.2
13 December 2021
Feature Update
Added – Legacy Contact,
Apple Music Voice Plan, App Privacy Report,
Hide My Email, Communication Safety,
Macro Mode Toggle, Find My Battery Reserve
15.2.1
12 January 2022
Bug Fixes
Bug Fixes
15.3
23 January 2022
Bug Fixes
Bug Fixes and Security Updates.
15.3.1
10 February 2022
Bug Fixes
Bug Fixes
15.4
14 March 2022
Feature Update
Added – Face ID with Mask support (on iPhone 12 and
iPhone 13 models), New Emoji, Apple Card Widget,
Tap To Pay
iOS 15 Release Dates
iOS 15 Features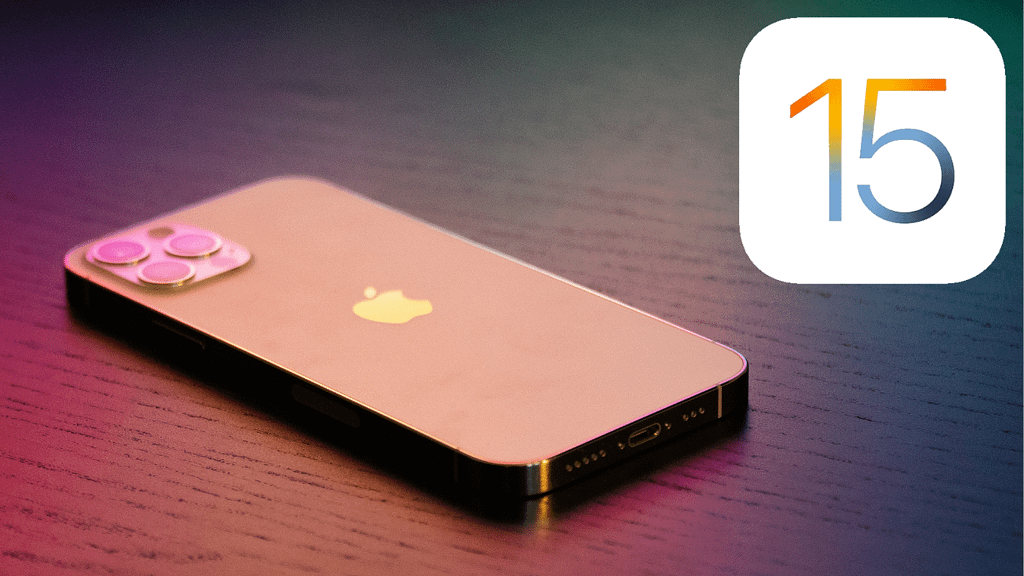 Here is the List of key features added in the iOS 15 update.
FaceTime – SharePlay
Focus
Notifications
Live Text
Spotlight
Updated Apps – Maps, Safari, Photos, Wallet, Messages, Weather, Health and more.
FaceTime – SharePlay
With SharePlay users now get an option to watch Tv shows and movies while keeping Facetime conversation On.
Focus
Focus helps you to be in your moment when you need to focus on something or use the other focus options when you need to go out.
Notifications
Notifications are now completely redesigned for providing best look and larger app icons for easy navigation.
Live Text
You can now make your images or live photo to be read for useful information with advanced AI and Apple's Neural Engine Processing.
Spotlight
Spotlight helps to collaborate all the results at one place with new rich search results from entertainers, Movies, artists etc. It has the ability to search the live text from your photos too.
Updated Apps – Maps, Safari, Photos, Wallet, Messages, Weather, Health and more.
With the iOS 15 update users now get the best experience for the apps in terms of interface and app speed optimization.
News you may also like –
iOS 15.4 Update Features
Apple recently announced an iOS 15.4 update with an approx. size of 1.79 GB. The key features included by developers are like –
Face ID with a mask
New Emoji
Face ID with a mask
The Face ID with Mask was evolved during the covid 19 pandemic because at that time iPhone Users were not able to use Face ID and in the recent models apple removed the Touch id so it was the biggest problem for iPhone community.
New Emoji
iOS already consist of several emoji's but with change of time the things need to be updates so there are several new emoji's are added in the system.
What iPhones will get iOS 15?
The following devices will get the latest release of iOS.
iPhone 6s
iPhone 6s Plus
iPhone SE (original model)
iPod Touch (seventh-generation)
iPhone 7
iPhone 7 Plus
iPhone 8
iPhone 8 Plus
iPhone X
iPhone XR
iPhone Xs
iPhone Xs Max
iPhone 11
iPhone 11 Pro
iPhone 11 Pro Max
iPhone SE (2020)
iPhone 12 Mini
iPhone 12
iPhone 12 Pro
iPhone 12 Pro Max
iPhone 13 Mini
iPhone 13
iPhone 13 Pro
iPhone 13 Pro Max
FAQ's
Is 15.4 iOS out?
Yes, On March 14, 2022 iOS 15.4 was officially out for iPhone and iPad users with features like – Face ID with a mask and New Emoji Updates.
What is the current version of iOS?
The current version of iOS is 15.4 and which was announced some days back.
Will iPhone 6 Get iOS 15?
Yes the iPhone 6s and later are compatible with iOS 15.
Does iPhone 7 Get iOS 15?
According to apple all the models starting from iPhone 6s and later are supported for iOS 15 and can enjoy the exclusive features.
Hope you liked the content and please support our blog by sharing this article.